St. Patrick's Day in Destin!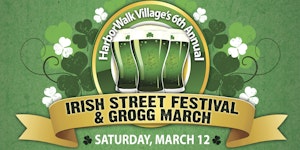 Head out to HarborWalk Village and get reach to shake your shamrock during the annual Irish Street Fest and Grogg March this St. Patrick's Day! Whether you live here or will be enjoying a Destin vacation, we encourage you to don your green and come out for some fun.
The entire family will enjoy the Irish Street Festival, which takes place on Saturday, March 12, 2016 at 1PM. The little ones will love the arts and crafts, as well as the interactive treasure hunt. Be sure to let them get their faces painted by the available artists, as well. Adults will enjoy this event just as much. Sip on some cool and green and you take in the live entertainment on the events stage.
Speaking of adults and green beverages, the Grogg March portion of the evening will take place after dark and after the kids have gone home. Wander throughout HarborWalk Village and down the docks of Destin visiting each of the area's best pubs and restaurants to enjoy specialty drinks and delicious discounts on some of your favorite items. Be sure to purchase your Grogg March tickets early.
If you prefer to celebrate St. Patrick's Day on March 17, 2016, we have only one recommendation – McGuire's Irish Pub. Located at the foot of the Destin Bridge, this Emerald Coast restaurant is a must-visit whenever you vacation to the area, but certainly if you happen to be here on St. Patty's Day. We recommend heading out early and getting your name on the list for a table. It might be awhile. We promise, though, it's totally worth it! Delicious food, freshly brewed beer and a delightfully green cocktail or two will leave you feeling very lucky that you enjoyed the night at McGuire's!
Tagged Events, restaurants, St. Patricks Day